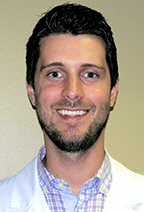 Dr. Matthew Imber: "My love for chiropractic did not stem from any personal chiropractic experiences, rather it had its roots in my affinity for science and in my pursuit for effective treatment methods. In spite of having experienced a variety of medical issues growing up, I had never seen a chiropractor. The chiropractic profession was one with which I had had little contact throughout my life up until that point , and I had little idea that there was an alternative to the allopathic community and the treatment options they provide. With these truths informing my decision, I entered college with the intention of becoming an MD.
While in college, I acquired a job working as a toxicologist in preclinical testing. My time as a toxicologist brought about my first sense of hesitancy towards my choice to pursue conventional medicine. Toxicology really opened my eyes to the limitations of life long medications. After having spent some time in toxicology, I reassessed my priorities and my options which lead me to discover chiropractic medicine; even though I wasn't fully sure what new treatment options would be available to me as a practitioner of this "alternative" medicine, I knew I wanted more than just prescriptions.
It was at this point that I left toxicology and went to work at a hospital. While working at the hospital I spent chunks of my day with individual patients and their families. I spent a particularly large amount of time on the neurology floor and it was here that patient frustration with the current model and it's lack of effectiveness and specificity became apparent to me. I even approached a neurologist working at the hospital and asked him if he was frustrated with his treatment options. He replied frankly: "yes."
My experience at the hospital furthered my drive for something more- treatment options for those patients who felt they had exhausted the potentialities of conventional medicine. My search lead me to functional neurology, and my affinity for the field was instantaneous. Shortly thereafter, I enrolled in chiropractic school with the intention to become a functional neurologist.
After 8 years of school and several hundred post-doctoral credit hours in neurology I found the perfect place to share my passion for helping people with chronic conditions."
Make An Appointment
We will do our best to accommodate your busy schedule.  Schedule an appointment today!
Schedule Now
Our Services
We strive to provide complete care for our patients.  Learn more about all the services we provide.
Read More
Download Office Forms
Download Office Forms Online
Download Now